High Rise Housing
For seniors, individuals with special needs and others, High-Rise Public Housing provides an affordable alternative to high-priced specialized living facilities while still offering high quality care and assistance. Tenants here have access to three levels of assisted care—and some of the best views in town. Four high-rise facilities have skywalks joining two Community Centers. The Rainbow Center serves King Manor, Tri-Towers and Grandview Manor. The Lincoln Park Center serves Midtowne Manor I & II. The Centers offer social & cultural events, computer labs, exercise classes, lectures, craft activities, bingo, senior dining and much more.
Step 1: Apply
Take a look at the FAQ entitled, "Do I Qualify For Housing Assistance?" If you meet the requirements, your first step is to fill out an Application form, which can be downloaded from our home page, or you may call 218-529-6300 and asked for one to be mailed to you.  Once completed and signed, the application can be returned in person, by fax, or by mail to:
HRA
P.O. Box 16900
222 East Second Street
Duluth, MN 55816-0900
Fax: 218-529-6344
Phone: 218-529-6300
After the application materials are reviewed, you will be contacted by a housing representative who will verify your information. Upon approval, you will be placed on our High-Rise Housing waiting list.
Step 2: Move
When a unit that fits your needs becomes available, you will be contacted by a housing representative. In addition to basic housing, support services will be provided on an as-needed basis. Living options range from complete independence to personalized levels of assisted living care. Assisted living care includes meal preparation, housekeeping services and medical care, provided by Interim Health Care.
Step 3: Enjoy
Several of our high-rise facilities include community centers, which provide daily activities and entertainment options. All of our facilities offer educational programs and well-appointed common areas for visiting and socializing.
That wasn't so hard, was it?
If you qualify for High-Rise Public Housing, our goal is to make the entire process as simple as possible. We believe that everyone has the right to a comfortable and happy living environment, and we'll work hard to make that a reality for you. Our dedicated staff will answer any questions you have and will help you through every step of the process.
So, are you ready for a quality living experience? It all begins with one phone call.
218-529-6300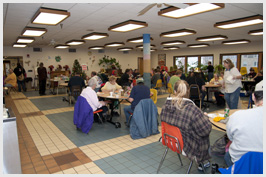 Rainbow Center guests enjoy the many offerings held in its multi-purpose room.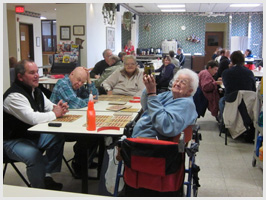 Lincoln Park Center guests especially enjoy playing bingo.
222 E. Second Street
P.O. Box 16900
Duluth, MN 55816
Phone #: 218-529-6300

To place a call to a Minnesota Relay User, dial 7-1-1 or 1-800-627-3529.