Homeowner & Rental Rehab
Housing Rehabilitation exists to provide private homeowners and landlords the resources to make improvements to their homes through a variety of community-based programs. Our goal is to help homeowners who meet income limits, and landlords renting to low-income tenants keep their properties safe, secure and well-maintained. Because we know that good homes make for better neighborhoods.
Step 1: Apply
Before you begin the application process, there are a few criteria to be aware of:
– The property must be within the Duluth, Minnesota, city limits.
– You must be the owner of the property.
– The property must be at least 25 years old.
Homeowners:
– You must meet the specified income guidelines. Please refer to the eligibility income limits chart shown on this web site on the Programs page.
– You must be the occupant of the property.
Rental Property Owners:
– For a period of fifteen years, you agree to meet tenant income and rent restrictions. A copy of these guidelines is available at the HRA offices. Rental property owners can also download an application form here.
After you have met these criteria, the application process itself is fairly simple. It begins with a phone call to HRA at 218-529-6327. A rehabilitation advisor will guide you through the process.
Step 2: Assess
Once your application has been approved, your rehabilitation advisor will assist you in assessing your home and determining the extent of the improvement project. From there, bids will be obtained, contractors will be hired, and your home improvement project will be underway.
Step 3: Enjoy
Once the home improvement project is completed, it's time to enjoy the results! There are no monthly payments on the deferred loans. They carry a zero percent interest rate and repayments are not due until the time of sale of the home or in 30 years.
Stronger Communities Start Here.
The goal of Housing Rehabilitation is to continually work to make our community better, one home at a time, and we want to help those that share our vision. Our dedicated staff will answer any questions you have and will help you through every step of the process.
So, are you ready to help make a difference?
It all begins with one phone call.
218-529-6300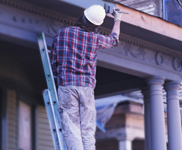 The HRA provides resources for property improvements to both owner-occupied housing and rental properties.
222 E. Second Street
P.O. Box 16900
Duluth, MN 55816
Phone #: 218-529-6300

To place a call to a Minnesota Relay User, dial 7-1-1 or 1-800-627-3529.